HAZWOPER CERTIFICATION | OSHA HAZWOPER | 8-HOUR HAZWOPER REFRESHER
HAZWOPER (Hazardous Waste Operations and Emergency Response) training is regulated by the Occupational Safety and Health Administration (OSHA) to serve as a guideline in dealing with hazardous wastes and products from its origin to removal. In 1986, Congress tasked OSHA to develop training standards for individuals who are employed to clean up hazardous waste and dangerous goods, resulting in the OSHA standards CFRs (Code of Federal Regulations) for the construction and general industries.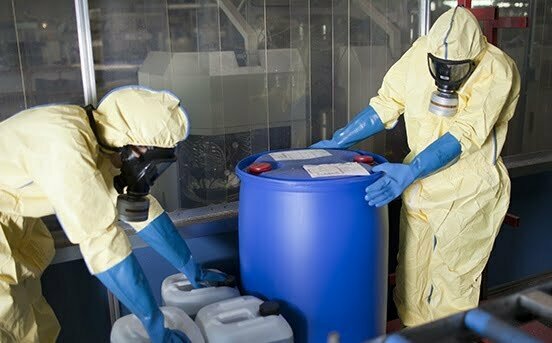 With Hazwop.com, you can complete our online OSHA HAZWOPER training and official exam to meet your 8-hour HAZWOPER refresher training, 24-hour HAZWOPER, and 40-hour HAZWOPER training requirements. A certificate of completion will be available for you to print at the end of your course. The type of HAZWOPER online training required will depend on the exposure to hazardous materials with the task an individual is responsible to perform. Our 8-hour HAZWOPER refresher training is approved for individuals working at hazardous waste sites and meets the requirements in OSHA 29 CFR 1910.120. The 24-hour HAZWOPER training is mandatory for workers at uncontrolled hazardous waste operations and the OSHA 40 hour HAZWOPER training course is compulsory for employees dealing with or being exposed to hazardous substances.
HAZWOPER TRAINING COURSES
GHS HAZARDOUS COMMUNICATION TRAINING –
$20.00
WHO NEEDS TO TAKE THE OSHA HAZWOPER 40 HOUR TRAINING?
HAZWOPER training is imperative for uncontrolled chemical emergencies, or sites of potential chemical legacy. Chemical legacies are inherited chemical stocks from previous occupants or team members, kept unused and forgotten over time. A legacy may identified as uncontrolled sites by any Federal, State or local government body if the "accumulation of hazardous substances creates a threat to the health and safety of individuals or the environment, or both." This identification must be made by an established, relevant authority of the government body.
Note that uncontrolled waste site-operators performing clean-up and remediation duties at chemical contamination sites, are often exposed to uncontrolled chemical contaminant of unknown identity and concentration. Workers engaged in such situations receive protection by paragraphs (b) through (o) of HAZWOPER.
HAZWOPER aims at diminishing chemical exposure risk to workers in any/all of these activities:
Uncontrolled hazardous waste site operators
Treatment, storage and disposal facility (TSDF) personnel
Emergency responder
WHAT IS HAZWOPER TRAINING?
The Hazardous Waste Operations and Emergency Response or HAZWOPER, produced in 1990 by OSHA — Occupational Safety and Health Administration and maintained since, are guidelines regulating hazardous waste operations and emergency services in the United States and its territories. OSHA mandates businesses and employees dealing with the handling or transportation of hazardous materials undertake HAZWOPER safety certificates.
HAZWOPER was formulated to protect workers in:
primary response situations to chemical release emergencies,
ensuing clean-up of site(s) after stabilizing emergency conditions, and
clean-up of chemical contamination from USA's industrial chemical legacy.
HAZWOPER instructs on specific hazardous materials used in industries, especially manufacturing, and agriculture.
WHAT DOES HAZWOPER MEAN?
HAZWOPER is an acronym for Hazardous Waste Operations and Emergency Response. It is an occupational safety certificate created for individuals who deal with or may come into contact with hazardous materials on the job. HAZWOPER is a health and safety standard designed to train workers on how to responsibly handle dangerous substances and also how to maintain their own safety while performing chemical response actions in their businesses and/or communities. It is not however, designed to train on specific technical response activities such as plugging chemical leaks or spill remediation.
WHAT IS HAZMAT TRAINING?
HAZMAT (Hazardous Material) training is for individuals involved in hazmat handling or response to hazmat spills spreads, leaks, or accidents that may cause further damage to life, health, properties, or the environment. Training is mandatory for managers and employees who prepare hazmat for transport.
In the US, all hazmat shipments leaving your facility must comply with the US DOT Hazardous Materials Regulations (49 CFR). OSHA's regulation 29 CFR 1910.120(q)(6) requires hazardous materials technicians to receive 24 hours of first responder operations level training to achieve competency, however, on assessing employee competency, more than 24 hours training may sometimes be required.
WHAT IS 24 HOUR HAZWOPER TRAINING?
This OSHA 24 Hour HAZWOPER Online course is a comprehensive training for those on whom the 24 Hour HAZWOPER training requirements for OSHA standard 29 CFR 1910.120(e)(3)(ii) and 29 CFR 1926.65(e) (3)(iii) trainings are mandatory. This includes workers occasionally on site for limited, specific tasks, who are unlikely to be exposed to hazardous substances over permissible and published exposure limits.
The course includes and is not limited to the following topics:
hazardous materials recognition;
site characterization & analysis;
respiratory protection;
hazardous waste sampling methods;
HAZWOPER emergencies.
toxicology;
PPE;
decontamination;
spill management and containment; and
The class provides a detailed overview of the equipment available to HAZWOPER workers, and does not require or provide any hands-on training.
WHAT IS 40 HOUR HAZWOPER TRAINING?
The 40-hour course is the initial training for workers with the highest risk under HAZWOPER standards. Workers require the 40-hour HAZWOPER initial training if they:
Work with and clean up hazardous materials regularly.
Are involved in the storage and treatment of hazardous substances.
The HAZWOPER 40 hour training course provides more detailed equipment training. Students of the 24 hour course may later upgrade to the 40 hour HAZWOPER level by taking the 16 Hour HAZWOPER Upgrade. There is no time limit for when someone may add the 16 hour course to the initial 24 hour course.
HOW LONG DOES HAZWOPER 8 CERTIFICATION LAST?
Upon successfully completing the 8-hour HAZWOPER course, certification received is valid for up to 12 months. You must retake the HAZWOPER Refresher course every 12 months to keep your certification. This refresher must be undertaken every year to maintain compliance.
If the date for refresher training lapses, repeating initial training must be determined based on the employee's familiarity with safety and health procedures used on site. Employees alternatively should take the next available refresher training course and "There should be a record in the employee's file indicating why the training has been delayed and when the training will be completed."
WHO NEEDS OSHA 8-HOUR HAZWOPER REFRESHER TRAINING?
OSHA designed the HAZWOPER program to protect workers at hazardous sites. Such workers at uncontrolled hazardous waste operation sites and those involved in emergency response actions must receive eight hours of HAZWOPER refresher training each year.
The course comprises of nine sections pertaining to workplace hazards associated with HAZWOPER. Topics include HAZWOPER regulations, site characterization, toxicology, hazard recognition, personal protective equipment, decontamination, medical surveillance, confined space entry and emergency procedures. Upon successful completion of the course you will receive a certificate of completion.
OSHA HAZWOPER TRAINING & CERTIFICATION COURSES ONLINE
With Hazwop.com, you can complete our online OSHA HAZWOPER training and official exam to meet your 8-hour HAZWOPER refresher training, 24-hour HAZWOPER, and 40-hour HAZWOPER training requirements.